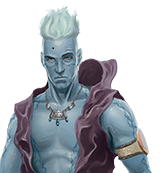 Seen in an open field at the center of the
Wood of Sharp Teeth
, the archmage in residency
Mar'i Olopiz
trains the forces of
Scornubel
in basic defense techniques, as a favor to
Krusk
. Using extraplanar magic, the archmage is able to conjure up beasts and other types of enemies into the open field--surrounded by a magical barrier to contain them--and allow hands-on education and learning.
Known for summoning more exotic opponents once a month, to better emphasize key battle concepts and best practices.
Member of the Fabulous Four, Krusk the Barbarian's traveling adventure party. Other members included Sheila, Thogred.
[placeholder for additional information]